This one's heavy on the story and the graphics! Have any of you noticed just how many blonde women there are in this game? Mitch keeps on bringing home blondes!

LEAH THRACE

Things with Alan continue in a downward spiral. He comes by the house every night, now; I'm so afraid to go out! Mostly, what he's done is minor vandalism: kicking over our garbage can, for example, and throwing the pink flamingo lawn ornament Mitch has had since before I met him across our tiny front lawn, but I am quite afraid of what could happen if things get out of control. Mitch has even noticed; he asked me the other day what the hell "that guy in the green jacket" was doing outside, and I told him that he was a man who tried to flirt with me at Rodney's Hideaway and got turned down. Luckily, Mitch believes me.

I am not so sure he should. I am such an awful person.




One day, I couldn't stand the abuse any longer. I got so angry with his garbage-spewing antics (can you believe we've called the exterminator every day this week? That's how much garbage that idiot kicks over) that I went outside, stalked down the stairs and confronted him with a pointing finger and an angry voice. After a brief shouting match in which I told him to go away and in which he refused violently, I couldn't help it; I reached out and socked his creepy, frightening face! I'd never been in a fight in my life, and it's not something I care to do again.

"I was supposed to --" POW! "--be here with you in this house!" he cried.

WHAP! BAM! "I'm married, Alan! You knew I was married!" I yelled back.

He pulled my hair out of the bun. "I thought you were going to leave him for me!" he said.

WHACK! "I may be a Pleasure Sim, but I'm not stupid!" I replied, attempting to aim my knee for the most important parts.




Luckily, both Mitch and Starbuck were at work and Kyle was upstairs contemplating his chess moves for his public-school tournament. I ended up losing, unfortunately, and Alan walked off smugly, screaming threats at me. It's true; I'm no longer in love with him, and I am no longer even friends with the asshole; I just want him to go away. Why won't he go away, or be kind and understanding and friendly like Leonid was? Is it so hard to forgive?

I'm just thankful the bruises I have are underneath my dress.




We had Knut Reamon, a friend from the lab, over for dinner the other night; he was quite excited, having just been promoted to the science faculty at Downtown High. When Mitch told Knut about his desire to teach young people the intricacies of the labwork he'd been doing for umpteen years, Knut promised that he'd talk to the principal. The very next day, Mitch was hired to fill the biology lab coordinator at the high school! We're all so very excited, and Starbuck is thanking her lucky stars that she's taking chemistry now (after all, who wants their dad for a teacher?).

Things are getting better between us, and although he's still calling Noelle every day, I'm pretty convinced that there's nothing going on between them. Heh. Mostly because he's been coming home with the 6th-grade English teacher, Marissa.




Like all the other women I've been scared of, Marissa is blonde and skinny, and very intelligent. I'll tolerate her, though, because with Mitch's new science-teacher salary there's the possibility that we may be able to get rid of our thirteen-year-old hunk of junk and invest in a brand-new truck. The one I have my eye on is blue, of course, like our Smoogo Minima. I told Starbuck about my vehicular plans, and she's just so excited; even though she can't understand why we don't get a sports car. She always wants the best of everything. I know Marissa finds Mitch intriguing and handsome -- I heard her talking about it to Ryker when the two of them were over -- but as long as I spend all my time around and lavish affection on my husband, I believe everything will remain blissful. I'm still thinking of the divorce, but thanks to the promotion, some of the pressure is off.




I was upstairs helping Kyle with his chessmen when Alan just barged right into the house, like he belonged there. Mitch, well-attuned to the fact that he was the psychotic asshole who was pitching over our garbage cans at night, treated him as if he were just another of my many guests -- except for the fact that he served him rotten chili con carne. I watched from between the stair-spindles upstairs; it was absolutely fantastic. He just kept on eating, and throwing up, and eating, and throwing up. He even went home by himself! Sweet, sweet revenge.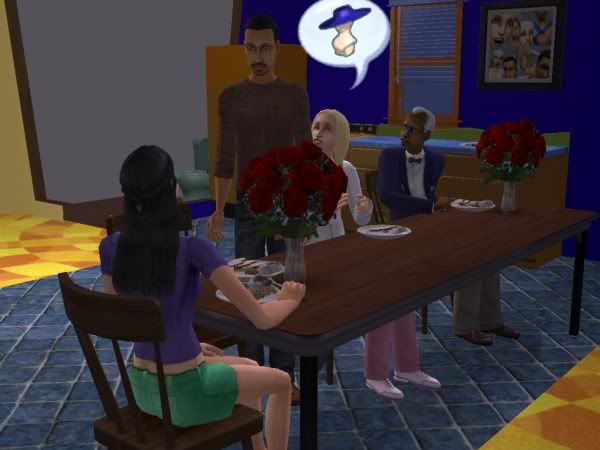 We decided it was time to get Kyle admitted to the local private boys' academy; he shows much less aptitude for studying than his older sister, but it never hurts to get an early start on life. Once again, I cooked turkey for the packed house that we always seem to have: Mitch's work friends ("up the ladder, Leah, up the ladder!" is his explanation for that), a girl that Starbuck befriended at school (Ivy? I think that's her name; she's quiet), and, of course, the headmaster, whom we charmed with my wonderful food and Mitch's chatter about the awful politics in the Sim City public schools. Kyle was admitted posthaste.




This is -- well, it's a bit embarrassing to talk to your only daughter about, but, well -- after the dinner was over and Mitch was telling the headmaster about the awful cafeteria food our Kyle is forced to ingest each day at lunch, I was clearing the dishes and I noticed Starbuck in the corner. She and Ivy were talking in low voices like they normally do, attempting to keep any embarrassing talk about makeup away from the dumb parents, as usual. This time, however, something was different: she leaned over and flirted with Ivy. The girl looked quite embarrassed and ran to the other side of the room, making excuses about needing to be home to cook chef salad for dinner. Starbuck looked heartbroken, but turned on the television and started to watch the Yummy Channel anyway (she's gunning for a culinary scholarship, combining her job at the Burger Barn with her love of making money).

I am wondering how to approach her about it, if I should approach her at all.




In fact, she turned on the television one Sunday and sat there for the entire day watching the Yummy Channel before going off on her job. I asked her about inviting Ivy, Rodney, or Alvin over, and she just shook her head wordlessly.

I wish I could talk to my kids better.




At any rate, she never ceases to amaze me. Here she is in her work outfit, talking about her stock-trading activities with Rodney.




She and Ryker are very good friends, and when I have him over for cards or dinner, he always lavishes attention on her. She eats it up; although I don't think she likes him in that way, it's definitely nice to have a handsome older man offer to play chess with you.




Speaking of chess, Kyle is a little chess fiend. He's involved in a league and goes to tournaments all over Sim City. He thinks far more logically, sometimes, than Mitch or I, and is a blast to have around. I think Starbuck is a little annoyed with playing with him, now, as she hasn't won in years.




He also loves playing Cops and Robbers with Manual Charvat, one of the neighborhood boys. They usually spend Saturdays together, chasing eachother around the yard with fake finger-guns. It's really cute, honestly.




As for Mitch and I?

He finally admitted that he'd wanted to ask me out on a date for a while, so we made a night of it: had a wonderful dinner at Londoste, dancing at P.U.R.E., and finishing it off with -- well, what else? We're married, after all.




My, how time flies. Here we are at Kyle's birthday. We're poised at the edge of elderhood, Starbuck's in the application process for colleges, and Mitch is now best friends with the richest man in town.

Things are looking up.

They are most definitely looking up.

(Did I mention we bought the truck?)